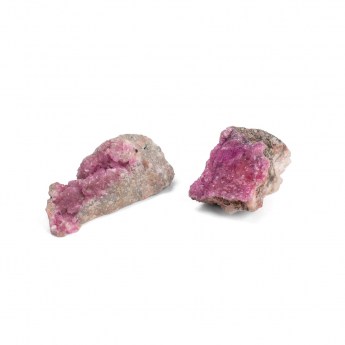 Cobaltoan Calcite
Please make your selection from the dropdown list.

Number 1 is on the left.
Product Code: CBDM
COM_VIRTUEMART_PRODUCT_SALESPRICE2
£32.99
My Wishlist
My Wishlist
---
Cobaltoan Calcite from Congo
The distinctive pink coloured crystals in cobaltoan calcite come from impurities of cobalt. These pieces come from the Democratic Republic of Congo (formerly Zaire). We purchased them locally from one of our suppliers in Cape Town.

Cobalt has recently become one of the most economically important metals in the world. It's a vital component for the production of lithium ion batteries which are rechargeable batteries used in electronic equipment and various applications.

This natural mineral which can feature exceptionally pink gemmy crystals was first discovered in the Calamita mine in Tuscany. Although most material now comes from Congo, it can be found in a several countries around the world.

The crystals on the cobaltoan calcite on the right in our photos sparkle incessantly as they reflect light. They're also a deeper and richer shade of pink. A higher concentration of cobalt is responsible for the intensity of the colour.

In the piece on the left minute sparkling crystals can also be seen in the rock matrix.
Shipping Prices at a Glance.
We offer services with Royal Mail for Standard 1st and 2nd Class within the United Kingdom. Free UK postage on orders over £80.

We post worldwide and offer a wide choice of competitively priced delivery services.

Please read our Postage and Delivery page for full details of services, expected delivery times and the level of compensation offered.

We're passionate about the planet and work hard to reduce our carbon footprint. We don't use plastic or plastic sticky tape.

We only use non printed packaging and don't include unnecessary printed matter.

To really make a difference we need to work together to reduce the amount of waste that we produce. We also need to reuse and recycle whatever we can.

Please read our recycling policy.
Packaging

Maximum Size
(cms)

Maximum
Weight

1st
Class
£

2nd
Class
£

Large Letter

35.3 x 25 x 2.5

100 grams

1.60

1.15

250 grams

2.25

1.85

500 grams

2.95

2.40

Small Parcel

45 x 35 x 16

2 kilos

3.69

2.99

Related Products
Interesting Articles
---