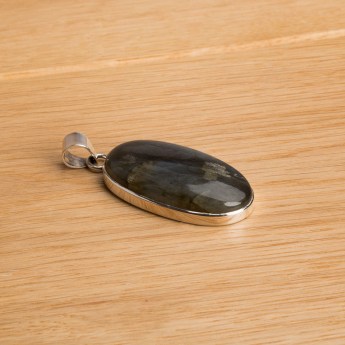 Labradorite Pendant
Weight (grams) : 23.3
Size (cms) : 4.7 x 2.5 x 0.7
Product Code: BALB
COM_VIRTUEMART_PRODUCT_SALESPRICE2
£48.99
---
Beautifully Iridescent Labradorite Pendant
Labradorite pendant featuring a wonderfully iridescent polished cabochon. When this highly translucent gemstone is held up towards the light its colour is best described as greyish green. The natural fissures within the stone cause light to bounce around which is the reason for the flash of blue colour. One of these fissures is quite prominent and in one small section can just about be felt on the front of the stone.

Labradorescence or schiller as this optical phenomenon is correctly known is caused by the reflection of light and is best seen in stones with inclusions, fissures and minor cracks. The vivid blue colour in this piece is truly magical but to fully appreciate it you really need to have the pendant in your hands.

Iridescent colour can be seen in the distinctive patch on the lower right side of the stone (just about visible in our second photo) and also on the back of the cabochon towards the bottom, adjacent to the sterling silver setting.

A variety of the mineral feldspar which also includes sunstone and moonstone, labradorite is named after the Labrador coast in Canada where it was first discovered.

This carefully chosen labradorite pendant was crafted by hand for Stone Mania in a setting of fine sterling silver.

Related Products
---