Sodalite Points | Stone Mania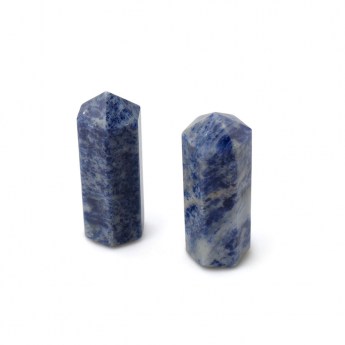 Sodalite Points
Product Code: TSPT
COM_VIRTUEMART_PRODUCT_SALESPRICE2
£10.20
---
Sodalite Mineral Terminated Points
Two sodalite points from our collection of crystals rocks and minerals. These two pieces may be purchased together or separately. In our dropdown list sodalite point number one is on the left in our first photograph, number two is on the right.
Sodalite is often confused for lapis lazuli but there are a number of significant differences between the two. The most important is the fact that sodalite is a mineral and lapis lazuli is a metamorphic rock. Understanding the difference between crystals rocks and minerals can be confusing but basically, crystals are made up of atoms, minerals are made up of crystals and rocks are made up of minerals. With that said, sodalite is often present in lapis lazuli although another mineral called lazurite is the main cause of its colour. Inclusions of iron pyrite can often be present in lapis but never in sodalite.

Both of these sodalite terminated points exhibits exemplary colour and would make an attractive addition to any collection of polished rocks and minerals. In crystal healing terminated points are used for focusing and amplifying energy.

Queen Mary (wife of King George V) loved the mineral sodalite and had an exquisite letter opener made for her husband. The handle was crafted from sodalite and featured a crown at the top whilst the blade was gold. It also featured a number of other gemstones. The letter opener is now part of the Royal Collection. She also had a pair of sodalite urns made whilst she was still Princess of Wales.



Related Products
---