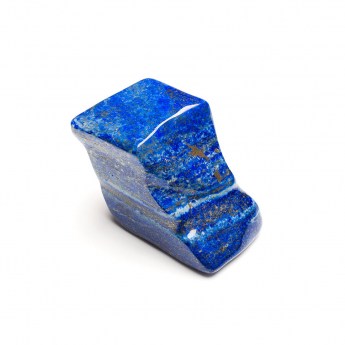 Lapis Lazuli
Weight (grams) : 301.4
Size (cms) : 9.3 x 5.2
Product Code: LLGB
COM_VIRTUEMART_PRODUCT_SALESPRICE2
£299.95
---
Magnificent Lapis Lazuli from Sar-i Sang
An outstanding lapis lazuli stone mined, cut and polished in Afghanistan. This piece was bought from a local craftsman by someone who had been working in the country. It was then offered to us by one of our suppliers. Sadly over the past ten years the mines located in Sar-e Sang (or Sar-i Sang) in the Kuran Wa Munjan District of Afghanistan where much of the world's finest lapis lazuli is mined have been taken over by armed groups led by powerful figures and and militants and huge quantities of stone are being smuggled out of the country through Pakistan and China. This has led to the country losing billions in revenue but operations to retake control of Badakhshan's gold and lapis mines are now underway.

The area where lapis lazuli is mined known as Sar-e Sang is known by locals as Mahdani Lojward which means lapis lazuli mines in Dari, a modern dialect of Persian spoken in Afghanistan.

Afghanistan is home to some of the world's oldest lapis lazuli and material supplied to Ancient Egyptian pharaohs came from mines that are still being worked today. Although often referred to as a mineral the term is incorrect because lapis is a metamorphic rock made up of several different minerals hence is not a mineral in its own right.

This highly polished lapis lazuli stone in terms of quality is the finest grade that we have ever had as part of our collection. It's a truly magnificent piece that deserves pride of place in any collection of rocks and minerals.

See our original full size photo on our Flickr page.

Related Products
---